Sourcing and Contracting at Your Fingertips
Businesses rely on connectivity, and cable providers are key to sourcing and selling the perfect solution. But as your customers maintain multi-site build outs to increase their footprint, it's up to you to identify the right providers at the right locations.

At Intelisys, we're focused on equipping Partners with the knowledge, tools and resources to navigate the marketplace and stay ahead of the competition.

Selling cable has never been more simple with CableFinder in MyIntelisys. As the number one resource for building your business, our platform empowers Partners to do what they do best— spend more time selling.
Launched in October 2020, CableFinder in MyIntelisys is a powerful tool that changes how Partners source, qualify and contract cable. Since the launch, nearly 2,000 Intelisys Partners have signed up for CableFinder and completely transformed how they sell cable and fiber circuits.

Streamline Your Sales Funnel
CableFinder is an interactive mapping tool that lets you easily look up cable and fiber circuit service availability. Search for specific locations by address, business name or by uploading a CSV.
Get real time information with the open API design, including:
Cable availability by exact location
Distance to fiber
Distance to coax
Anticipated installation timeframes
Available configuration options
Pricing
Promotions
Once you find the right fit, generate and share contracts within seconds. Then you can easily integrate with DocuSign to collect signatures. You'll even receive instant alerts when your contract is signed. This simplicity allows Intelisys to accelerate opportunities for Sales Partners.

With Partner Reviews, you can get answers and offer your own insights as a leader in the Partner community. These real experiences will innovate the way we communicate our needs, enable growth, and strengthen our relationships.

The Entire Cable Landscape from Your Dashboard
CableFinder integrates with the MyIntelisys portfolio to support your sales and promote dynamic relationships with Intelisys Suppliers. At the click of a button, you can identify and connect with some of the top cable providers in the U.S.

Don't just take our word for it: see what our Suppliers are saying about CableFinder.
How to Use CableFinder in MyIntelisys
1. Search
Once you've logged on to MyIntelisys, go to Renegade on your top menu bar and find the tool under Discovery.
From there, you can begin your research by typing in an exact address or a business name into the search bar. CableFinder then connects to cable provider databases to gather real-time information.
2. Explore
After adjusting your search, you'll see the interactive CableFinder map. In this view, you will find:
Providers near your desired location
Lit building information
Fiber and coax information, including:

Available providers
Distance
Color-coded serviceability details that explain construction requirements and anticipated installation timeframes.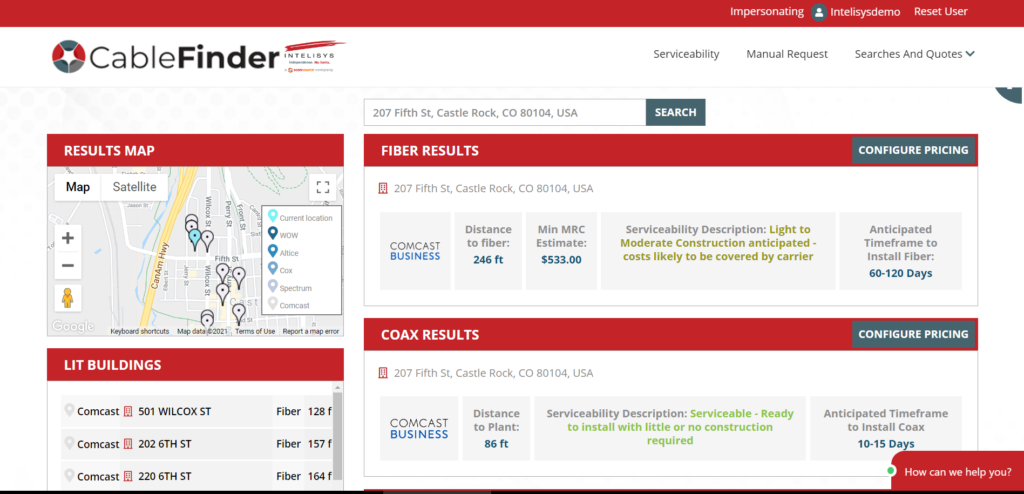 For clients with a lower office footprint, CableFinder integrates with Google Places so you can explore nearby businesses. This helps your client potentially share cable buildout costs with neighbors while giving you a new lead generation source.
3. Make the Sale
When you find the ideal cable solution for your customer, adjust the order to fit their needs. CableFinder will showcase each carrier's available services and terms. This phase automatically includes any carrier-provided discounts or promotions, getting you the best offer available.
When you're ready to send the proposal to your client, you can choose to "Generate Quote" or "Generate Contract" from within the platform and email the PDF directly.
CableFinder saves all your generated quotes and contracts within the platform so that you can download the information to your desktop or access it later on.
Cable Sourcing Made Simple
It's our mission to empower you with the tools to succeed. Use CableFinder to identify new and expanded opportunities, source the right-fit solutions your customer needs, and grow your business for tomorrow.
Streamline your success with CableFinder. Go to MyIntelisys to access CableFinder's friendly user interface, robust library of information and advanced quoting and contracting tools today.